Our Appliance Repair Experts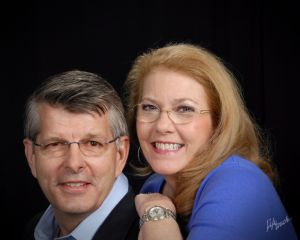 Jim and Sharon Plummer are the owners of U-FIX-IT Appliance Parts.
Jim is an ex-Air Force pilot and a business school graduate of University of Texas at Austin. He has been in the appliance parts business since 1975. Jim's time away from work provides time for reading, computers, fixing things around the house, and teaching Sunday school.
Sharon started an insurance brokerage in 1992. She continues as a part time insurance broker in addition to her full time duties at U-FIX-IT Appliance Parts. In her spare time, Sharon loves her German Shepard dog, playing the guitar, growing flowers, and is social chair at Sunday school.
Jim and Sharon are Christian believers who are unabashed in their love for God and their love for each other. Broken appliances are not happy news when they happen. Jim and Sharon want your appliance repair experience to be as pleasant and stress-free as possible.
---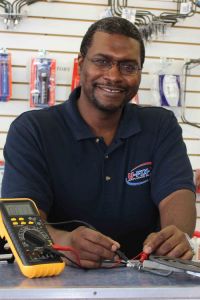 Eric Wade- Store Manager, South Dallas Store
Eric was born and raised in Dallas.  Attended Dallas Carter High and graduated from the University of Houston in 1991. Eric, has been working at U-FIX-IT since 2002 and has been the store manager since April 2006. Eric enjoys working with people and helping to resolve problems.  Eric enjoy sports and is a longtime fan of the Dallas Mavericks and the Dallas Cowboys.
---
Eriberto Quinones- Sales, South Dallas Store
Eriberto  was raised in Dallas and attended South Oak Cliff High School.  He enjoys making peoples lives easier by helping solve their appliance repair problems.  His greatest love is to spending time with his wife and daughter having fun as a family.  Eriberto enjoys working out, most sports and all kinds of music.
---
Chris Hatcher- Store Manager, East Dallas
Chris comes to U-FIX-IT with a wealth "Do-IT-Yourself" experience.  Chris finds satisfaction in helping customers solve their appliance problems.  "It's really about helping people and providing knowledge, empowering them to solve their own problems".
Chris and his wife are currently restoring their 100 year old home in Plano.  He is the neighborhood's "go to" person for all kinds of repair questions.
While growing up in Houston, he played in a local band. These days he relaxes by playing guitar and ukulele.  Chris is a proud grandfather of three, and an avid Dallas Cowboys and Texas Ranger fan.
---
Edgar Gonzalez- Sales, Arlington, TX
Edgar was born and raised in Dallas. He attended David W Carter and is currently attending college. He enjoys helping people find a solution to their problems in a efficient manner. He is currently studying for a software development degree and networking certificates. His hobbies include working with software development kits, computers, and collecting retro video games such as NES, SNES, Genesis & Atari.
---
Christian Figueroa – Sales, Tyler, TX
Christian was born in El Paso, Texas but moved to Tyler at a young age. He grew up in the Chapel Hill area and graduated in 2010. In his spare time, he likes to be outdoors, playing sports and fishing whenever he gets the chance. He is a Dallas Cowboys fan and enjoys music of all sorts, but country is probably what's playing when he has music going. Spending time with family and close friends is my favorite time. Christian enjoys being a part of customer service and making things easier for folks any chance he gets.
---
Ryan Blue – Sales Tyler and East Dallas
Ryan was born and raised in Rowlett, TX and is currently working toward his bachelor's degree in accounting at the University of Texas at Tyler. He has played soccer since the age of 4 and plays whenever he can. His favorite pastimes include fishing. spending time with family and listening to country music.
---
Ben Brown – Accounting
Ben was born in Northeast Pennsylvania and moved to Houston in 2011. He graduated from Tomball High School in 2014, and is currently finishing up his undergraduate work at Dallas Baptist University. Soon after he will work on completing his Masters in Accounting, eventually becoming a CPA. In his spare time Ben is always watching sports and likes going to the gym when he can.
---
Agustin Perez, Jr. – South Dallas Sales
Agustin was born and raised in Dallas, Tx. Currently in school working on ASE certification to work on cars. He is a Martial Artist specializing in Tae Kwon Do since since he was 6 years old, Second Degree Black Belt registered in Korea; National Champion in 2008, 2009, 2010, 2011. In his spare time, he enjoys fishing, riding supersport, gaming, and spending time with family. Agustin loves to make people smile and laugh through their problems. He is addicted to coloring books.
---