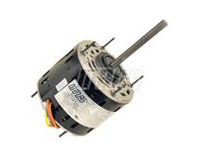 Blower Motor MR 10464
Part No. MR 10464
Furnace Blower Motor Replacement
Multi-Horsepower Direct Drive Furnace Blower Motors
MARS Brand multi-horsepower direct drive blower motors are ideal for truck stock. Four models cover both 115 volt and 208-230 volt applications from 1/6 through 3/4 HP. All MARS brand multi-horsepower motors feature Rheem shell mounting holes.
1/6-1/2 Multi-HP 230v Furnace Motor Reversible
Requires a 10/370 capacitor at 1/2 hp and a 5/370 or 7.5/370 at all other hp.
Part Specifications:
• Single phase, 60 Hz
• Overload protection
• Class B insulation
Part Features:
• 2-1/2 inch resilient rings
• Reversible rotation
Part Replaces:
YORK Rheem/Ruud Carrier/Totaline
MARS # GE AO Smith Emerson Fasco Marathon Wagner Source 1 Prostock RCD
10463 3463 FDL6001 5460 D2835 X077 WG840463 S1-FHM3463 51-23012-41 P257-E5461
10464 3464 FD6000 5461 D833 X073 WG840464 S1-FHM3464 51-23022-41 P257-E5460
10466 3466 FDL6002 5470 D2832 X074 WG840466 S1-FHM3466 P257-E5471
10467 3467 FD6001 5471 D2833 X075 WG840467 S1-FHM3467 P257-E5470