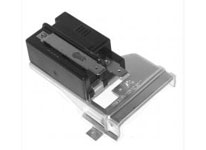 Dryer Flame Sensor ER338906
Part No. ER338906
$39.36
Dryer Flame Sensor Replacement
ER338906 – Dryer flame sensor for Whirlpool, Kenmore, Estate, Roper, KitchenAid and other dryers.
Part purpose:
The flame sensor is a safety that turns off the gas if the burner flame fails to ignite.
Part location on dryer:
Flame sensor is mounted on the burner housing surrounding the flame. It is near the gas valve.
Part failure symptoms
Gas dryer runs and flame ignites but goes out prematurely.
Part diagnosis:
If there is no continuity through the sensor it is bad. Bring your "flame sensor" in for free confirmation that it is good/bad or call the U-FIX-IT store for free assistance with diagnosis.
Replacing flame sensor on Whirlpool, Kenmore, Estate, Roper, KitchenAid