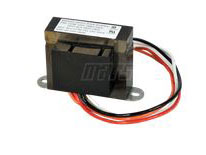 Transformer MR 50203
Part No. MR 50203
Furnace Transformer Replacement
The MARS-2 Control Transformer 50203 is a 40VA transformer that powers 24 Vac circuits in HVAC systems. This is a NEMA transformer (Class II).
Class II power transformers include power transformers with high‐voltage windings from 115 kV through 765 kV.
Part Replaces:
This 40 VA transformer can compare to or replace the following popular control power transformers: Global GT4031F, Jard 4031F, Honeywell AT140A1018, AT40A1121, AT40A1139, AT140B1214, Universal UET105, UET115, Steveco / White Rodgers 90-T40F3, Packard PF42440.
This 24vac 40VA transformer can be used in lieu of Honeywell transformers when installing our popular Honeywell UV Air Treatment systems. Honeywell recommends using a transformer to supplement the existing power source. If your system has an existing transformer it is likely adequate, but you can be sure by adding a transformer.
Part Specifications:
VA: 40VA
Model No.: TR123
Circuit Breaker: No
Primary Voltage: 120/208/240V 50/60Hz
Secondary Voltage: 24V with Wire Leads
Mount: Foot Mount Transformer
Dimensions: 3.5″ x 2″ x 2.25″